Reggie Evans has a reputation as a flopper and it shouldn't come as a surprise he was one of the players used in a video sent to media and teams this season to demonstrate acts of flopping and acts that aren't considered to be flops. Also, he was one of the first four players warned for flopping, so when he flopped Tuesday night against Metta World Peace during the Brooklyn Nets-Los Angeles Lakers game, it wasn't a surprise.
Check the video in which Evans flails is arms around as if he was hard fouled by World Peace.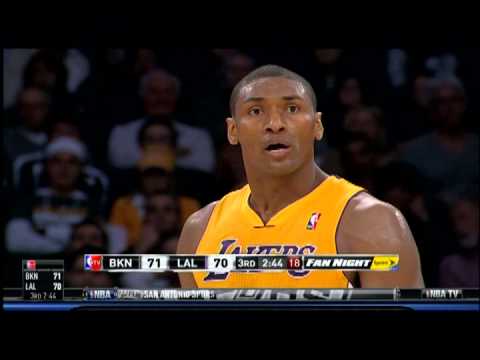 Also, because of this egregious theatric, Adrian Wojnarowski reports the league will fine — the first player fined for flopping — Reggie Evans $5,000. 
For his second flopping offense, the NBA has fined Brooklyn's Reggie Evans $5,000, league source tells Y! Sports.