The Denver Nuggets would bring a proven veteran they had traded away in 2006 back to Denver in the summer of 2011 and Andre Miller would prove to be a fundamental piece in Denver's success; however, how will he fair in 2012-2013 with the Nuggets?
Miller was initially part of the nuggets from 2003-2006 and he was traded to the Philadelphia 76ers for Allen Iverson. It must be stated, Miller's role during his first stint with Denver — along with Carmelo Anthony and Marcus Camby — was key in the Nuggets resurgence.
Miller would be re-united with the Nuggets when the team traded Raymond Felton to the Portland Trail Blazers for the underrated point guard and what seemed to be only a one year deal, Miller would re-sign to the Nuggets for three additional years this summer, despite his grumblings to the media he wanted a starting role and to be on a contender.
Miller's first game back with Denver last season against the Dallas Mavericks – you may remember this BLOW OUT win for Denver — in which miller accumulated 18 points, 5 assists, 6 rebounds, and 3 steals.
That's one way to remind Denver fans, despite his advanced age, that he can still contribute for Denver.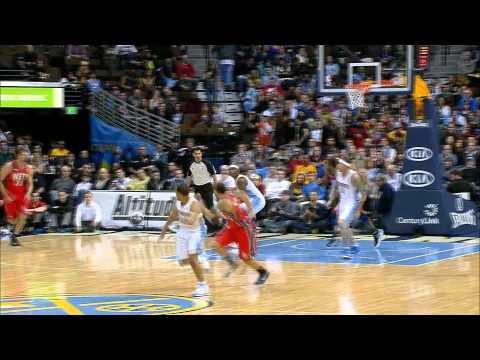 George Karl often played Miller, in the shooting guard position, in tandem with Ty Lawson, and actually they played over 300 minutes together last season. Karl fell in love with the two together, and although fans would grumble at the small ball lineup, it proved to be productive some of the time as it equated to a +31. While the two-guard lineup proved to be productive, it wasn't always like that as there was instances where the appearance of both guards netted a -24.
With that being said, it's assumed that Karl will still use that specific tandem, but only in special circumstances as Denver is loaded with wing talent ranging from Andre Iguodala to Jordan Hamilton to Corey Brewer.
What I am saying is, Miller will most often be the back-up point guard, and he is arguably the best backup pg in the NBA. No questions.
Last season he wasn't as efficient on scoring, 9.7 ppg, below his career average of 14.1, but that's not only could be a sign of his age, but also he went from a starting gig averaging between 32 and 37 minutes to coming off the bench and playing 27 minutes; however, he was incredibly efficient at assists with 6.7 pg. That's coming off the bench; the way Miller can see the entire court is unbelievable and goes under the radar at the same time.
Not to mention his game on January 18th against his former team, the 76ers, in which Miller garnered the nickname "Killa" for his powerhouse game in which he led the Nuggets to an overtime victory. During this game, he accumulated 28 points on 60% shooting from the field, shot 75% from downtown, 8 rebounds and 10 assists; a near triple-double.
He was phenomenal.
Denver would play the Wizards after Philly and it was after that game, Miller would go on to have four consecutive double-double games starting with the Knicks.
He would accumulate 14 points and 12 assists against New York on January 21st, 15 points and 10 assists against the Sacramento Kings on the 25th, 13 points and 12 assists against theToronto Raptors on the 27th, and 16 points and 10 assists against the Los Angeles Clippers on the 29th.
Speaking of that Knicks game, remember the shot clock was dwindling down to just the one second mark and Miller tosses up the most atrocious-looking three except it went in: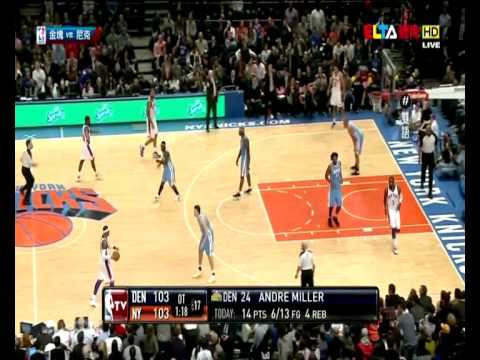 Needless to say, Andre Miller is an underrated mechanic when breaking down defenses to slip through and connect to his man.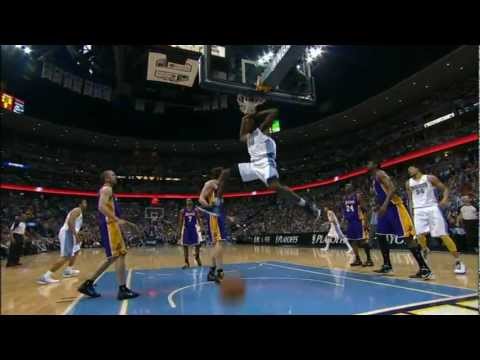 The truth is, Miller can lead the offense and the defense — although, his man-to-man defense leaves something to be desired — has a high basketball IQ which is indicative of his remarkable play-making ability. He does many of the little things that are easy to not see,and his passes are amazing like his quarterback passes to JaVale McGee for a smashing alley-oop.
You want durability? Miller is a picture child of durable as he has only missed four games during his entire career.
Miller has great handles, and is best when he is driving to the basket, and not shooting perimeter, as he shot an abysmal 21.7% from downtown in 2011-2012. Basically, I cringe when Miller shoots from the 3-point line.
Miller isn't just a vital force on the court, but also vital in the locker room as it was reported his half-time speech during Game 5 of the Nuggets and Los Angeles Lakers series that inspired his teammates to push. In the end, Denver won that game and pushed the series to a Game 7 thriller.
In short, what Miller lacks for being lackadaisical on defense as well as having selfish moments, he more than makes up for his supreme court vision, his ability to quarterback an offense, his throwing arm and his play-making skill sets.
My not-so bold predictions for Miller in 2012-2013 is this: He may see reduced minutes playing the shooting guard position, but should play a total of 25-28 minutes, while leading the Nuggets in assists as well as competing with Chris Paul for lob leader in the league.