You might remember on Monday during the USA-Argentina game, where Carmelo Anthony was coming down from a three-pointer and Argentinian player, Facundo Campazzo, hits Carmelo Anthony in the junk and a slew of words ensued.
No? Well here's the video again: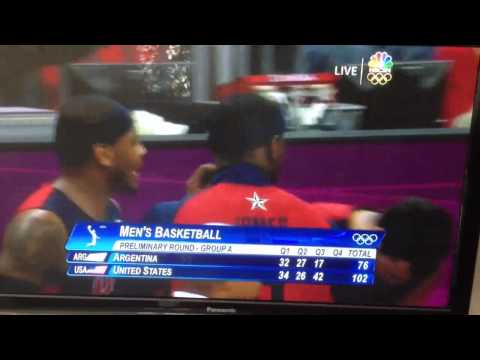 At one point it looked as if Luis Scola was coming to bark at Coach K. and that's when you see the bench get really animated. Apparently, the jab to Melo's nuts was a retaliation move when Chris Paul had "punched" Compazzo, but don't worry he apologized to Kobe Bryant.
Yeah, the guy who's testicles didn't get jangled around like an old man looking for his keys.
Campazzo, starting because Knicks-bound veteran point guard Pablo Prigioni is out with kidney stones, said he apologized to Bryant but not to Anthony, saying Paul didn't apologize for hitting him.

"He told me it's not necessary, and I told him I was really sorry," Campazzo said. "But before Chris Paul punched me. It's part of the game."
So let me re-cap this for you:
1.) Campazzo hits Melo's junk because CP3 punched him.
2.) He aplogizes to Kobe because, well, it's Kobe fucking Bryant.
3.) He's not going t apologize to the guy's nuts unless CP3 apologizes first.
4.) I had no idea full-grown Argentinians had a Kindergarten mentality.
Also, I'm preeeetttttyyyy sure tapping someone's nuts isn't part of the game. I'm not 100% on this, but I'm pretty sure.
Then again, it's hard to feel sorry for Melo knowing he did this: