I was scratching my head thinking of something creative and fun to post about, but still pertaining to my love: The NBA. A lightbulb went off; a EUREKA moment; my take on 10 of the most atrocious looking NBA jerseys that has graced us over the years. NBA throwbacks are as popular as ever, many of them making a comeback during the 2011-2012 season. I present to you 'The Mistress' 10 Ugliest NBA Jerseys In NBA History"
10. The Floridians (Miami Heat's ABA Sibling)
The Floridians started out in 1968-1970 as the Miami Floridians and had blue and orange as their colors, but in the 1970-1971 season they dropped the "Miami" and went with a neon magenta and orange color scheme. Fans may remember that in 2004 the Miami Heat wore the road Floridians throwback (black), but this, to me, is more heinous. I know some that like this, but it looks like something a  Miami Vice basketball team would wear more than a professional one.
9. Cleveland Cavaliers (1974-1975)
This is an utter eyesore and I am certain that someone had taken some 'shrooms when designing this jersey. Only logical explanation and perhaps, LeBron saw this jersey and that's the reason he flew from "ugly jersey-dom."
8. Detroit Pistons (1996-2001)
The Detroit Pistons were well-known for their red, white, and blue color scheme in the 80′s and 90′s, but what in the bloody hell would inspire the team to go from that to the above?!?! This looks more like a jersey for a Pokemon (Kids card playing game) duel than a professional sport. Thank GOD, they ditched these after 2001.
7. Atlanta Hawks (Road 1995-'96; 1998-'99)
The designers decided it would be CLEVER to put this mentally challenge looking bird where the number should be. The end result: An atrocity to my eye sockets. What's more repulsive about this jersey is the hombre structure; going from black to red.
6. Houston Rockets (1995-'96; 2002-'03)
Perfect example of an NBA Jersey that is. clearly, doin' too much. It's not enough to have those pinstripes, and the 'Rockets' name, but they also have to go all elementary and put a rocket encircling the earth??? What the hell was that about??? They must have let a 2nd grader design those jerseys…. Only. Logical. Explanation.
5. Utah Jazz (1979)
The New Orleans Jazz was moved to the fun-filled (sarcasm) state of Utah in 1979 and then the mistakes started for the franchise. Mistakes?? Yes! First, they kept the "Jazz" moniker, (the Utah Jazz, really?) and  then, the classic music note icon in yellow and white trim along with the ATROCIOUS green background color to top it off?!  I'm not sure if a Christmas Tree jizzed all over an empty crate of jerseys or the team thought this was a GOOD IDEA??? This was the inaugural jersey you wanted to bestow on the NBA world as the Utah Jazz???? Really?
4. Phoenix Suns (1990′s)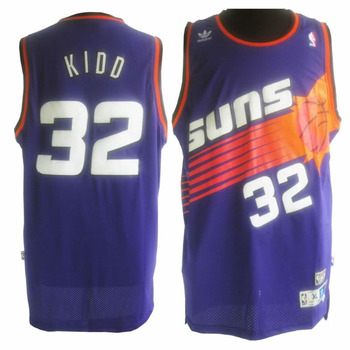 I have to admit, I love the Phoenix Sun's color theme, the orange just pairs well in many of their jerseys, but the only way I would EVER think this jersey is appealing is if I had a fifth of whiskey paired up with an ounce of Purple Haze and a few lines of he finest Columbian coke thrown in, but even then that would be a stretch.
3. Philidelphia 76ers (1991)
I get the gist of the idea, I truly do. The whole "let's play on our patriotic heritage with all the stars and the red, white, and blue theme, man. This will be the sweetest jersey eva" thing, but let me keep it real, someone was incredibly high or they were listening to some Large Marge put in her 2 cents. This looks like it should be a jersey for a Rainbow Brite basketball league.
See, I ain't lying….
2. Toronto Raptors (1995-1999)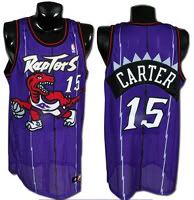 So you decide to name your franchise after a dinosaur, cool, but then you go after purple jerseys with a cartoonish NON-THREATENING Raptor and THIS is a good idea???? More than that, the Pokemon-esque Dino is the main focus of the jersey ……. I didn't know this jersey would be so popular. Oh, I'm sorry, I meant to say I knew this jersey would make someone scratch their head and think "You want me to pay xx.xx amount of dollars for this pile of manure."
As a matter of fact, the Pokemon version is ACTUALLY better than that piece of work listed above.
DRUM ROLL, PLEASE!!!
1. Milwaukee Bucks (1996-1997)
Fear the deer??? No, I fear for my eyesight after staring at this monstrosity. When was it okay to have this abomination on a professional sports capacity?? What is with the oversized picture of the deer?? The green and purple?? I want to spoon my eyes out after viewing this, more so than the time I decided it would be a smart idea to click on the DeadSpin link that said "Ron Artest's penis" ……. Yeah, BAD MOVE!